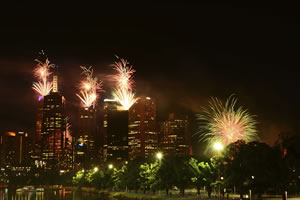 Melbourne lights up all over the rooftops on New Year's Eve. A fireworks spectacular across the skyline put on by the Melbourne City Council to celebrate the new year festivities.
The beautiful city of Melbourne showcases it's New Years Eve celebrations. December 31st is Summer time in Melbourne with a splendid mild evening anticipated. All of Melbourne"s best club venues, hotels and restaurants have fantastic NYE parties. Melbourne loves to party and the NYE Celebrations go long into first day of the new year!
Families and visitors are catered for, with many free city events to accompany the sensational NYE fireworks and free entertainment. The City has lots of parkland, a magnificent Yarra River running through the middle and Docklands areas to view the New Year fireworks. Melbourne is certainly a great place to come to at the end of December in Summer time in Australia.
The NYE fireworks at Docklands were spectacular and we could see the city skyline lighting up across the rooftops of the city buildings. It looked spectacular. We would definitely come to Melbourne again.
NYE Melbourne has the details of the best NYE parties for those wanting to welcome in the new year party style. We also have details of family friendly NYE events and dining for those that want a more relaxed start to the new year. NYE is a great time to celebrate with family and friends. Grab your friends and check out what Melbourne has to offer this New Years Eve.