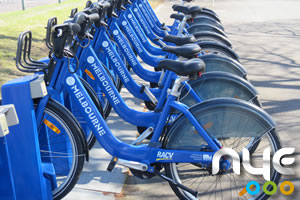 There are two aspects of transport to consider when planning New Years Eve in Melbourne.
1/ The first is if you are coming into the city from outside then how to get to the city.
Melbourne is spoilt with fabulous public transport of trains, buses and it's famous Melbourne trams. If coming in from the outer suburbs then trains will be the quickest. The inner suburbs are well serviced by buses and tram options also.  And get your Melbourne Myki for easy on and off ticketing.
Other options also include Limo services, Taxis and Water Taxis.  It will depend upon how many people you have and where you are coming from … but hey, New Years Eve is a special night so do try and make it SPECIAL!
If you drive in, then Secure Parking is providing a super deal and see the Melbourne NYE Car Parking page.
The public transport runs all hours on New Years Eve.
2/ If you are staying in Melbourne or once you get into the city how to get around.
Melbourne streets and parks are very busy on NYE so ideally it is best to try and land close to where you want to spend most of your time.  Around town it can be easiest to hoof it on foot, tram or try and get a taxi if you really need one.